Professional Development for Students
The University of Puerto Rico in Aguadilla (UPRAg) coordinates several workshops for our students. These workshops help our students to improve the communication skills, writing skills, pronunciation, and other.
Also, the Dean of Student Affairs in UPRAg has an Institutional Tutoring Project were the Tutoring Center offers free English tutoring. This tutoring can be virtual and face-to-face.   The topics of the tutoring are:
Conversational English
Reading Analysis
Grammar Correction
Hours:
Mondays and Wednesdays from 10:00 am – 12:00 pm
Tuesdays and Thursdays from 8:00 am – 12:00 pm
If the student is interest, they just need to reach out sending an email to centro.tutoriasuprag@upr.edu.
These initiatives are part of our commitment with the professional development of our students.
Some of the workshops given are:
Teacher Work Sample Tables and Graphs
March 31, 2023 | 9:00 am – 12:00 pm
DivED Conference Rooms I & II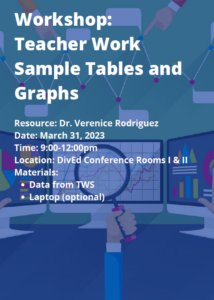 Academic Electronic Portfolio
February 24, 2023 | 9:00 am – 12:00 pm
DivED Conference Rooms I & II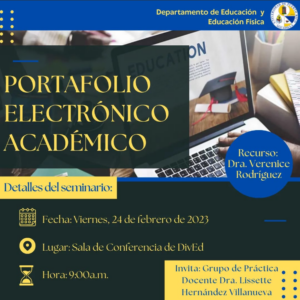 The Understanding of the Essay: Structure, Transition Words, and Synonyms
October 25, 2022 | 1:00 pm – 2:00 pm
MS Teams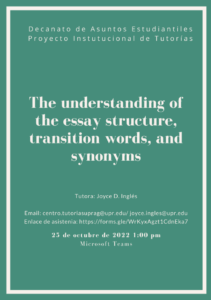 The Understanding of Prepositions
March 24, 2022 | 10:30 am – 11:30 am
MS Teams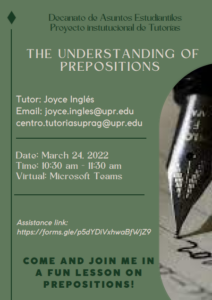 Literary Elements Workshop
February 15, 2022| 10:00 am – 12:00 pm
MS Teams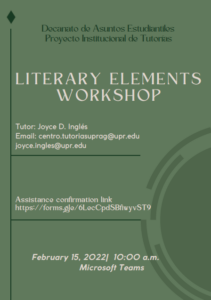 The Understanding of the Essay: Structure, Transition Words, and Synonyms
November 4, 2021 | 11:00 am – 12:00 pm
Microsoft Teams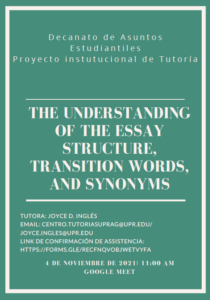 Verb Tenses and Agreement Workshop
October 14, 2021 | 10:30 am – 11:30 am
Google Meets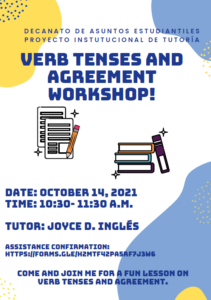 Conversational English Workshop
Tuesday, September 21, 2021 | 10:30 am – 11:30 am
Google Meets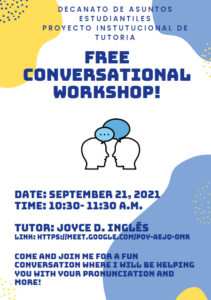 Conversational English Workshop
Tuesday, April 20, 2021 | 10:30 am – 11:30 am
Google Meets